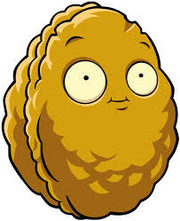 Wall-Nut is a Supporting Protaganist and Peashooter's best friend
Appearance
He has a brown round shape with a face.
Section heading
They are best friends since a LONG Time ago.Usually Peashooter tries to tell Sunflower Wall-Nut has a crush on her but gets Interrupted.
Wall-Nut has a huge crush on Sunflower but she never notices Because she's Slightly dumber.
sunflower:HEY!!
They are friends but sometimes Snow Pea teases him about his little secret. (Look at last Relationship)
Starfriut
When Aquainted by Starfriut,Wall-Nut always has a laugh.Starfriut thinks its fun watching him by Sunflower.
Potato Mine
Good Friends.They usually play "Speed Stik" on Multiplayer together.
Trivia
Wall-Nut's Full Name is Confirmed in Mama Nut With his Middle Name being James and Last Name Being Shellowski
Community content is available under
CC-BY-SA
unless otherwise noted.