Sunflower is a supporting Protagonist in PVZ Awesome Adventures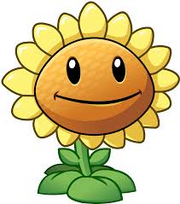 Appearance
Sunflower has a round brown head with petals and a face.She has a stem with arms and 4 leaves on the bottom.
Sightings
Season 1
Sunflower Thinks She Can Dance
Personality
Sunflower is Your,Optimistic,Bouncy,and Hyper Social Butterfly of the Gang.
Section heading
Peashooter and Sunflower are great friends doing many Activities together.They are kind to eachother and join many events.
Sunflower thinks of Wall-Nut as a friend.Exept,Wall-Nut has an EXTREME crush on her.But Sunflower never notices.
Starfriut                                                                                                                                                                                
Sunflower is neutreal with him so far but he helps her to feed him Starfriut Snax 
Gallery
Community content is available under
CC-BY-SA
unless otherwise noted.